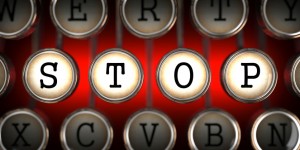 Much of what is written about having a business is about how you keep going. What you need to do, the actions you need to take.
That is truly valuable. Most of the time.
Sometimes, however, the best thing you can do is just stop.
Stop and take some time to rest.
Stop and acknowledge and celebrate all that you have accomplished.
Stop and look around you, to see where you are and where you are going. And give yourself a chance to consider, is this the right direction for me and my business.
Stopping doesn't have to take weeks or days. It can be just an afternoon. Or even a couple of hours.
The important thing is to just listen when everything in you is saying, stop.
This doesn't have to be a 4-alarm situation. That voice isn't necessarily saying, I can't do this anymore. Or this isn't the right path for me.
It also doesn't mean that you've suddenly become lazy or irresponsible. None of those judgments have to come into the picture.
It's simply saying, stop. For now.
Stop and listen.
Listen to what this voice is trying to tell you about yourself, about your business.
It's a great form of self-care, to just stop and listen. It's also a great way to care for your business.
When you stop and listen, you hear things you would never hear in the midst of all the busy-ness, the action-taking.
You find a solution to a problem that's been troubling you. You think of a way to better serve your customers and clients. You create something entirely new.
When you hear that voice within you saying, stop, listen to it as soon as you can. You'll ultimately be clearer than you've ever been.
Click here for your Alchemy Assignment, your chance to transform what you learned in this article into awareness and action for you and your business.