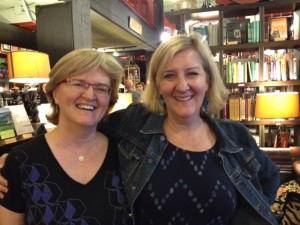 Having impact, being a positive influence in the world, touches a deep human desire to contribute and change your own life and other lives for the better.
By getting clear on the impact you want to have in your business and beyond, and start putting that into action, your work becomes more meaningful.
You're not giving anything up by focusing on your impact. Research shows that businesses with a focus on impact, rather than revenue, are significantly more successful and sustainable.
I'm always looking for ways to bring you more great content. I'm like you – I'm always experimenting, always trying new things to share with you that will give you tons of value.
I love meeting people, and I'm always amazed by the stories of other entrepreneurs. How they've gone through their own process of clarifying what they do and why. How they've had tough times and what they've done to deal with them.
I thought, why not share these conversations with you? Why not put my deep interest in people and the skills I've developed in conversation to work for you?
So I created a podcast series, Work Alchemy: The Impact Interviews, where I interview successful entrepreneurs and organizational leaders about impact. What they hope for. What they've achieved. The challenges they've had to bring that impact to life.
This podcast didn't just pop into the world fully formed. It's been a much bigger project than I ever imagined when I started with the idea a few months ago.
There have been technical issues, a lot of moving parts, and many decisions to make along the way. I'm always learning and wanting to grow and get better at what I do. So I stuck with it.
I didn't do it alone. I've worked with the great people on my team without whose help this wouldn't have happened. Big big thanks to Tim, David, Gaynor, Jo, Deane, and Lisa!
It's also been an arena where I have to be more visible. That's been a scary area for me. So I've had to move through my own fear and self-doubt to bring this to you. Oh have I ever! I've had some tough days and even a dark night of the soul, as I moved through old beliefs about what I can do and what my (mostly self-imposed) limitations are.
The cool thing for me is that knowing how awesomely valuable this will be for you has been a big factor in helping me move through all that.
It's helped me to be a lot braver. I've asked high-profile people like Facebook expert Mari Smith and former CNN anchor and documentarian Soledad O'Brien to be interviewed. And I'm getting even more brave! I'm working on arranging interviews with some other people whose names you'll recognize, as well as entrepreneurs with great stories who you may not have heard of.
This is an ongoing project. And it's an ongoing process for me to continue to work through what I've shared with you here. Just as it is for you as you move into a new area, a new challenge in your business.
It's a great honor for me to share these fascinating interviews with you. I hope you join me in this new adventure for all of us!
Here's a sneak peek at the first 3 episodes:
Episode 1: innovative author, speaker and seminar leader Gregg Levoy
Episode 2: award-winning author, business consultant and speaker Pamela Slim (that's us together in the photo)
Episode 3: Groundbreaking heirloom furniture makers Brian and Melanie Boggs.
Coming up, I'll be posting new episodes regularly.
These podcasts aren't intended to just inspire you and keep you doing the same old thing. I hope you use what you hear and learn to put your personal stamp on the ideas. Use them to expand your own impact.
Will you help me out in spreading the word? If you want to help, subscribe to the podcast, download the episodes, rate them, and write reviews to help us climb in iTunes' rankings.
We're hoping to get the podcast into the New and Noteworthy part of iTunes' podcast home page (at the top of the page) in these first 8 weeks, so that even more people will listen and create their own positive impact.
To listen to these interviews and subscribe to upcoming episodes from the Work Alchemy: The Impact Interviews podcast, click here and use the link in the podcast box at the top of the page.
I hope to see you there! And I'll keep working on bringing you interviews with people you can relate to and be inspired by. Thanks for your help in spreading the word, and for being here!
Ready to take action on your impact? It's a wise business move: your business will be more successful as a result! Start right now to bring your impact to life with the Work Alchemy Impact Your Business program – click here to learn more.
___________
Here's your Alchemy Assignment, your chance to transform what you learned in this article into awareness and action for you and your business:
Download one of the podcast episodes, and after you listen, write down any new ideas about how you can apply what you heard in your business. If you listen in your car, record your ideas on your phone. Ideas can be lost, so record them right away to keep them alive. You can review those and any other new ideas at the end of the week to see which ones you'd like to pursue.